Secret Clearance Sale


Exclusive 25% Off Super Secret Clearance Sale for My Collectibles Customers
As you may know, Collectibles Today (almost) NEVER discounts anything. When you first visit the sale page, it may be hard to tell the products are at least 25% below MSRP. That is, until you check the competition...
Visit the Secret Clearance Sale.
Collectible of the Day
Civil War Commemorative Knife Pendant Necklace - $119.00
The Bradford Exchange > Women's Necklaces & Pendants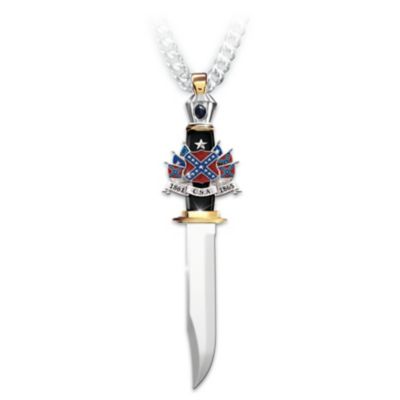 It was a momentous time in American history that divided and defined a nation. Now you can pay tribute to this historic event with this Civil War knife pendant that commemorates the 150th anniversary of the War Between the States. The replica knife is handcrafted in gleaming solid sterling silver and features a rich black enamel handle with 24K-gold-plated trim. The handle is adorned with a sculpted Confederate flag with red and blue enameling, along with C.S.A. (Confederate States of America) and the years of the Confederacy. This salute to history is handcrafted and a fine jewelry exclusive from The Bradford Exchange. The reverse side of the replica knife is elegantly engraved with, "PRIDE OF THE SOUTH." At the top of this Civil War jewelry is a hand-set black onyx stone. The stunning pendant suspends from a decorative 20" solid sterling silver chain. Strong demand is expected for this Confederate jewelry, so order now!