Secret Clearance Sale


Exclusive 25% Off Super Secret Clearance Sale for My Collectibles Customers
As you may know, Collectibles Today (almost) NEVER discounts anything. When you first visit the sale page, it may be hard to tell the products are at least 25% below MSRP. That is, until you check the competition...
Visit the Secret Clearance Sale.
Collectible of the Day
Budweiser Through The Years Express: Collectible Electric Train Collection - $69.99
Hawthorne Village > Trains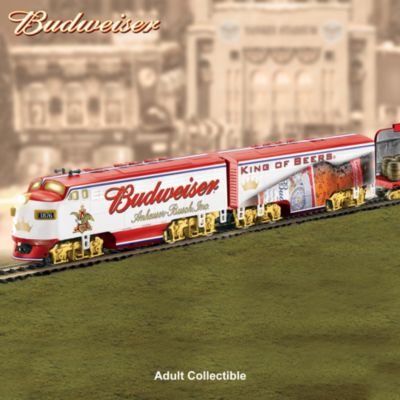 All aboard for a historic trip through the years with the legendary King of Beers™! You are sure to enjoy this refreshing look at the rich heritage of Anheuser-Busch when you take a ride on this first-of-its-kind Budweiser train - a true toast to the spirit of the Great American Lager. Your journey begins with Issue One, Illuminated Diesel Locomotive. Soon you'll receive Issue Two, Budweiser Engine, which includes a FREE 14-piece track set, power pack and speed controller. Then your collection will continue with Issue Three, Depressed Flatbed with removable vintage delivery truck, barrels and more FREE track. Additional Budweiser electric train cars, each a separate issue, will follow.‡Available only from The Bradford Exchange, Hawthorne Village Division, each issue of this collectible HO-gauge King of Beers train features dramatic, full-color artwork and logos tracing the storied history of Anheuser-Busch. Plus, the depressed flatbed cars feature removable, fully-sculpted replica Budweiser delivery trucks and more - scale models that are collectible quality replicas in themselves. And as your Budweiser train makes its trek through history, its way is lighted by the diesel locomotive's glowing headlight. Ready to take a refreshing ride on the King of Beers train today? Strong demand is expected so don't wait. Order now!