Secret Clearance Sale


Exclusive 25% Off Super Secret Clearance Sale for My Collectibles Customers
As you may know, Collectibles Today (almost) NEVER discounts anything. When you first visit the sale page, it may be hard to tell the products are at least 25% below MSRP. That is, until you check the competition...
Visit the Secret Clearance Sale.
Collectible of the Day
So Truly Real Doll: With Faith, All Is Possible - $149.99
The Ashton-Drake Galleries > Baby Dolls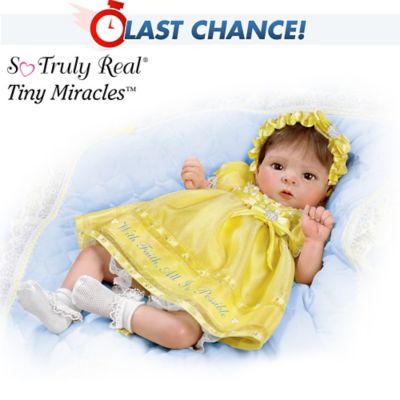 This little one has come into the world knowing all things are possible for those who have faith. Cherish the spiritual side of life with a collectible So Truly Real® doll, outfitted in a custom-crafted sunshine-yellow dress accented with hand-applied simulated pearls and shimmering ribbon, and bearing the touching words "With Faith, All Is Possible."Pay homage to the joys of faith with this beautiful realistic baby doll by Master Doll Artist Emily Jameson and only from The Ashton-Drake Galleries. She is expertly crafted of soft RealTouch® vinyl for the utmost in realism, with big, brown eyes and a hopeful, innocent face. But hurry! Heavy demand is expected, and you won't want to miss out. Order now!