Secret Clearance Sale


Exclusive 25% Off Super Secret Clearance Sale for My Collectibles Customers
As you may know, Collectibles Today (almost) NEVER discounts anything. When you first visit the sale page, it may be hard to tell the products are at least 25% below MSRP. That is, until you check the competition...
Visit the Secret Clearance Sale.
Collectible of the Day
Dolly Mama's It's Not The Age, It's The Hat-titude! Music Box - $34.99
The Bradford Exchange > Music Boxes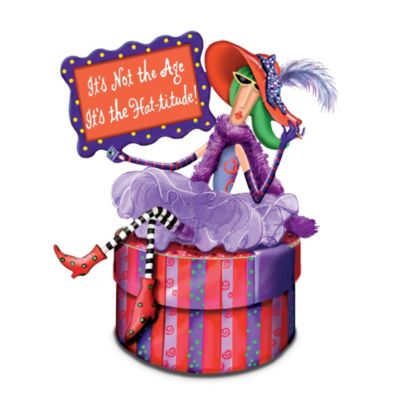 It's true! Girls do just want to have fun, especially when stylish hats are involved. Now you can celebrate the free-spirited and sassy side of every feisty girl with this whimsical Dolly Mama's music box, exclusively from The Bradford Exchange. This humorous collectible will have you laughing at yourself and your girlfriends alike!This handcrafted and hand-painted Dolly Mama's collectible features a spunky lady fashionably dressed in signature striped stockings, polka-dotted boots and a ribbon-wrapped red hat sitting atop a colorful "hatbox". Adorned with layers of real tulle fabric and soft-to-the touch feathers, this darling music box plays the fitting song, "Girls Just Wanna Have Fun." Peak demand is expected for this Dolly Mama's music box and it's the perfect humorous gift for her. Order now!